Telemedicine/Telehealth
& WhatsUpDocConnect

Telehealth: Best Consumer Healthcare Experience You've Never Tried, Says J.D. Power Study
...Among those early adopters who are using telehealth, customer satisfaction with the experience ranks among the highest of any consumer category studied by J.D. Power. According to the J.D. Power 2019 U.S. Telehealth Satisfaction Study, telehealth adoption is poised to grow considerably as healthcare consumers continue to use and recommend the service.

"We are looking at telehealth services similar to mobile banking and its early adoption rates"
According to J.D. Power... "Early attempts at trying to convince consumers to bank via their phone failed, and initiatives were abruptly canceled. Now, with mobile banking apps having grown to become the third-most-used application among consumers, we expect telehealth to follow a similar path. Telehealth offers an alternative avenue to receive quality care that is cost efficient and accessible. Once providers and payers refine the formula for awareness and adoption, telehealth will change the landscape of how affordable and quality care is delivered."

Customer satisfaction with telehealth services is high
The overall customer satisfaction score for telehealth services is 851 (on a 1,000-point scale) and is 900 or higher among 46% of telehealth users. These customer satisfaction scores are among the highest of all healthcare, insurance and financial services industry studies conducted by J.D. Power. Only direct banking customer satisfaction ranks higher, with an average score of 855.

Positive word of mouth is key to increasing adoption
Nearly two-thirds (65%) of telehealth users used the service because they received a positive recommendation from others: friend, family or colleague...

Telehealth works for most consumers using the technology
More than three-fourths (84%) of telehealth users were able to completely resolve their medical concern(s) during their visit and 73% did not experience any issues or problems during their service. While nearly half (49%) of users say there were no barriers that made using telehealth difficult, 87% describe the enrollment process as somewhat/very easy.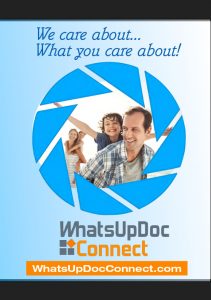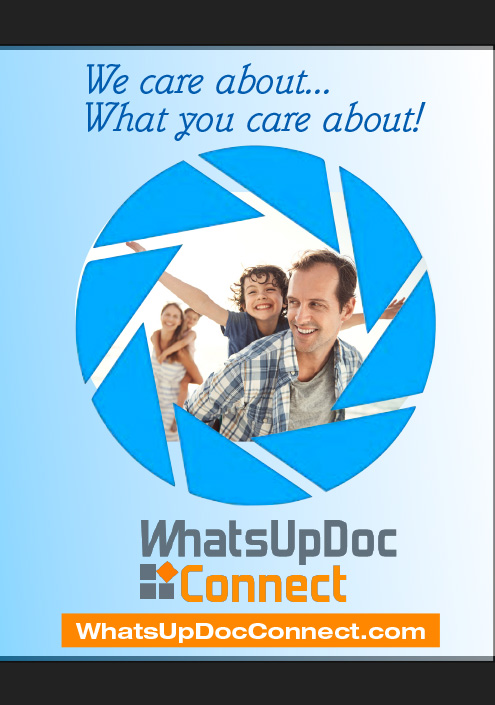 We care about what you care about
WhatsUpDocConnect analyzes member satisfaction with their Telehealth experience and the impact it has on loyalty and advocacy. Our name is fun, but we take our members' health and their satisfaction seriously.

Our continuous monitoring of our members' experience identifies the dominant factors that drive member satisfaction. In addition to measuring our members' perceptions of WhatsUpDocConnect's ability to meet their expectations, we review a series of measurable and actionable Key Performance Indicators for satisfying our members.

We are pleased to report that by being actively engaged with our members and ISRs, our member satisfaction ratings are high, which translates to ever increasing commission earnings for our ISRs.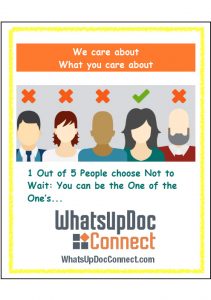 Good Health shouldn't have to wait
Our members know that no appointments are required. Once you're a member, just call us by phone, or, if you prefer a face-to-face consultation with a doctor - you can choose a video consultation when you log in to your health dashboard to have your doctor visit.

You get a response in minutes, not days or weeks. No more waiting in "germy " waiting rooms filled with sick people. Prescriptions are sent to the pharmacy of your choice. Some pharmacies will deliver the prescription to you. Our members use WhatsUpDocConnect from where they live, work or when traveling.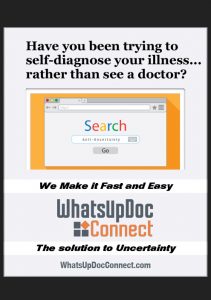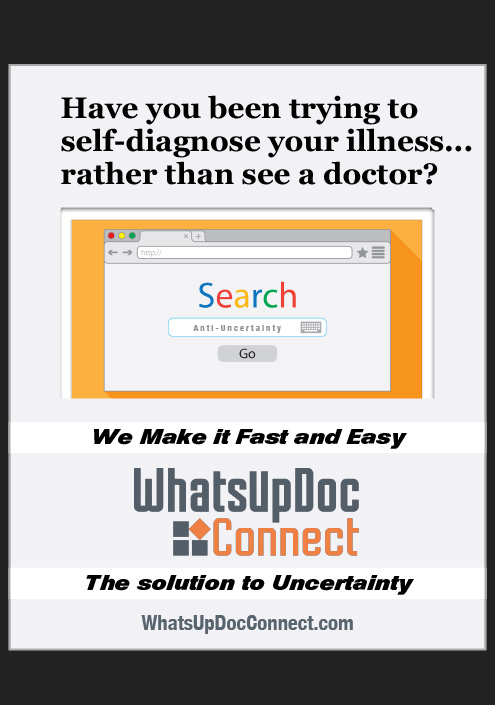 WhatsUpDocConnect is a whole lot better than searching the internet and scrolling through content that doesn't respond to your specific situation.
We know that you don't like to waste time traveling or sitting in a waiting room with sick people – either in the doctor's office or urgent care clinic. So, we created WhatsUpDocConnect – a company dedicated to finding every way possible to provide you with the most knowledgeable, reliable, convenient and personal experience!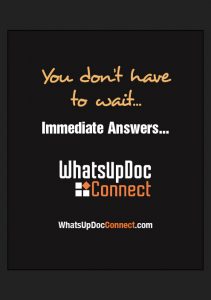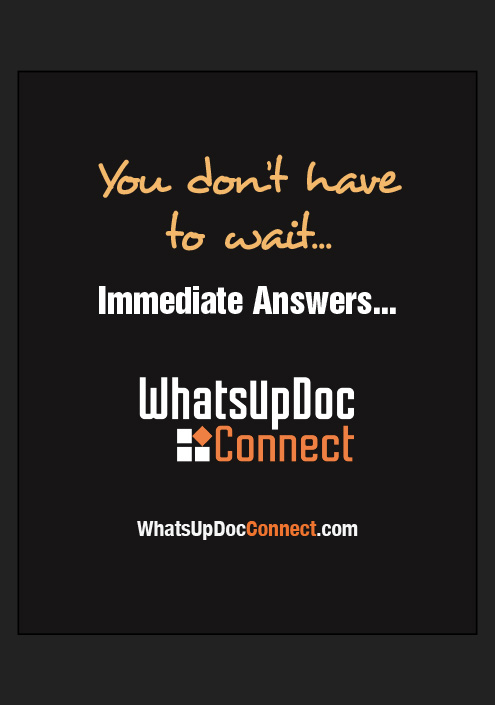 Sometimes you just need to get answers from a doctor-- Now!
Symptoms – a sore throat, body aches, headache and congestion – suggested that her daughter (we'll call her Lisa) might be coming down with the flu.

Lisa lives in the District of Columbia, her mother didn't want to take the chance of infecting her classmates, and she wanted to get a consultation before taking time off from work, and braving the rainy weather. Lisa's family has health insurance but doesn't have a primary care doctor. Before she was a member of WhatsUpDocConnect, Lisa's mother would be faced with having to make a judgement call, take time off from work to go to an urgent care clinic, or the ER, or just keep Lisa at home, or send her to school… not knowing which one of the alternatives is the best decision.

As a member of WhatsUpDocConnect, she simply went online to get a consultation with a doctor in less than 20 minutes. The doctor determined she didn't have the flu but was probably just suffering from a mild cold.

Lisa was seen, diagnosed and both Lisa and her mother were out the door of their house in less than an hour to get on with their day.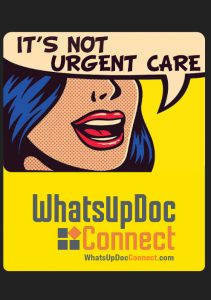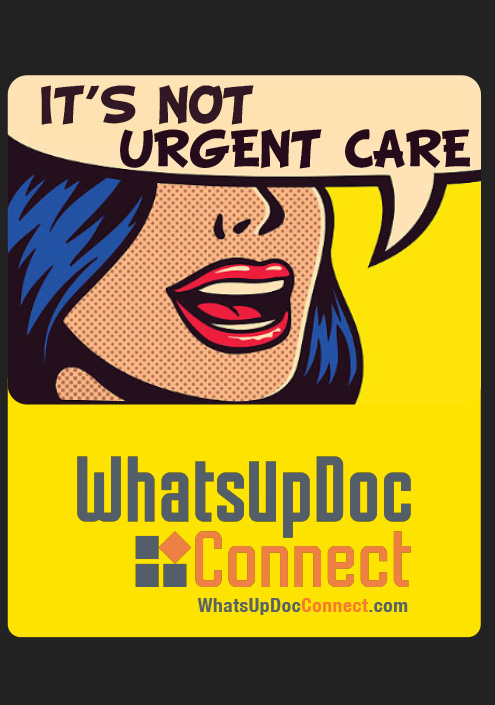 It's not Just Telemedicine... It's WhatsUpDocConnect
Telemedicine was originally created as a way to treat patients who were located in remote places, far away from local health facilities or in areas with shortages of medical professionals.

While telemedicine is still used today to address these problems, it's increasingly becoming a tool for convenient medical care. Today's connected consumer wants to waste less time in the waiting room, traveling to visit the doctor or urgent care clinic, they want to get immediate care for minor but urgent conditions when they need it.

WhatsUpDocConnect is the solution, however, one of the main challenges is explaining that telemedicine is available and how it works. We take a lesson from HBO… when they first started to introduce the service in 1972 cable television was poorly understood, so HBO cleverly came up with "It's not TV, it's HBO"

When you speak of telemedicine or telehealth simply use our name-- WhatsUpDocConnect. It's not Telemedicine, it's "WhatsUpDocConnect", It's not urgent care it's "WhatsUpDocConnect".

By using our name, and not using the less understood terms of telemedicine and telehealth you eliminate the need to explain the generic terms of telemedicine and telehealth and at the same time get brand recognition for WhatsUpDocConnect.
Telemedicine Market Information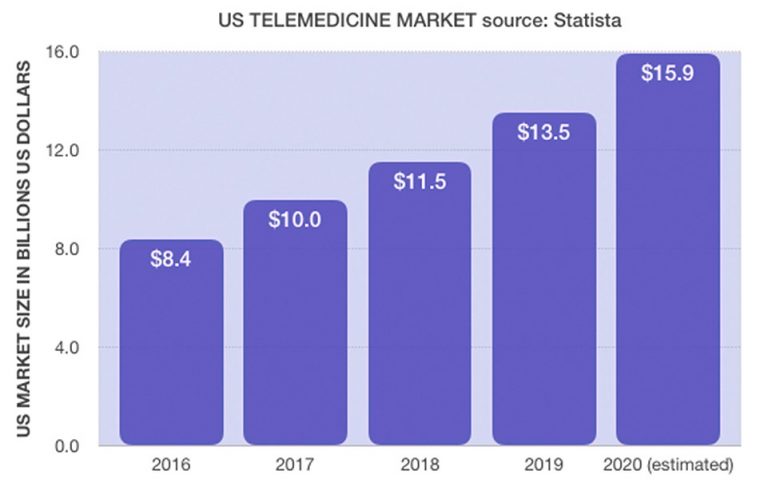 US Market for Telemedicine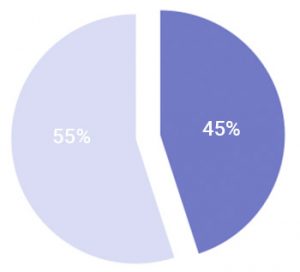 Many consumers are open to using telemedicine solutions
According to a 2018 US Telehealth Market research report from Business Insider Intelligence.
Telemedicine is not suitable for all patients, right now, about 45% of the US population, or 147 million consumers, falls within the addressable market. Business Insider's reach: 100 million unique visitors monthly, Business Insider Intelligence's proprietary panel consists of 16,000 individuals, including over 8,000 executives with decision-making power.
WhatsUpDocConnect members say... We're Netflix Easy and the
Rideshare of Healthcare
According to PwC* "52% of consumers with a high-deductible health plan say it would be hard to afford the deductible"  User satisfaction for telemedicine visits is high: one study reports that 78% of participants, after using telemedicine services, stated an interest in using the technology again. With WhatsUpDocConnect there's no deductible or copay. It's all included with your low cost monthly membership. *Price, Waterhouse, Coopers
WhatsUpDocConnect figured out how to deliver value to the uninsured and underinsured. In fact, even if you have a great healthcare plan, you can't beat WhatsUpDocConnect for convenience, reliability and top notch doctors. In 2019 a health industry increasingly pressured to do more with less is taking lessons from emerging companies like WhatsUpDocConnect.
Enter Your Information Below to Get Started