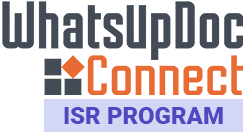 Reputation is Important
Your reputation (personal brand) is important. ISRs must always consider what is best for the prospective member, and member. Please keep in mind we are all consumers, being an ISR is not just an opportunity to earn commissions.

People like to do business with representatives they can trust, and who give them the very best advice and service. You are solely and exclusively responsible and liable for all of your acts, obligations and omissions. WhatsUpDocConnect does not have any authority or control over your performance of work or the means by which the work is to be accomplished. You shall have complete and authoritative control as to the details of performing the work. As an ISR you shall bear all costs and expenses attendant to ISR's Sales efforts without reimbursement from WhatsUpDocConnect, unless mutually agreed upon in writing.

You are responsible for all matters pertaining to your performance. You are solely responsible for all items that appear on your advertising, social media and/or website and for assuring that such items do not infringe upon or violate the rights of any other party. WhatsUpDocConnect is not responsible for any matter pertaining to your advertising, social media, website or content.


This is only a summary, please see the ISR Agreement for details.
Please play by the
Don't jeopardize your reputation or your commissions
If you have any questions... please use this form
Enter Your Information Below to Get Started